Environmental concern is the driving force behind the emergence of sustainability practices. Countless campaigns have warned people about the impending disaster that climate change will bring and insisted that we should adopt eco-friendly measures to protect the earth. We should all be responsible and do our bit by implementing such measures.
If you are wondering how best to incorporate these green measures, you can start right in your kitchen. Are you aware of the green kitchen or the eco-friendly kitchen concept?
Along with planting more trees, you also need to reduce your carbon footprint; by adopting sustainable materials and practices you can create a green kitchen design. It will be a significant step towards saving the environment and will motivate others to adopt similar practices.
But how do you create a truly green kitchen? Here's a guide that might help.
Eco-friendly kitchen design ideas for creating a green kitchen:
Sustainable material: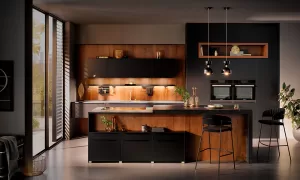 The first step to be taken in this respect would be to opt for sustainable materials for your kitchen. Learn about materials that are good for the environment and those that are not. Do some research to find out about the pros and cons of each option.
Materials such as cork, stone, and bamboo are sustainable options that should be used to build the foundation of every true green kitchen. Such naturally sourced materials are great options, along with recycled materials such as recycled glass and reclaimed wood. Do not worry about aesthetics, as organic materials will also lend a natural look to your environmentally friendly kitchen design. These materials are durable and will not harm the environment.
 No VOC paint is a must for a green kitchen:
Another crucial step in the green kitchen design project is selecting a safe paint for your health and the environment. You may not know that regular paints contain VOC or volatile organic compounds, which, when released into the air, cause pollution and lead to severe health and environmental hazards.
To create a green modern kitchen design, you must avoid such paints. You will find brands that offer no-VOC or low-VOC options; research these brands to learn whether their product contains zero VOC; if it contains low-VOC, then learn about the percentage. Choose zero-VOC paint for your kitchen walls, cabinets, and drawers to create a safe eco-friendly kitchen.
Invest in energy-efficient appliances: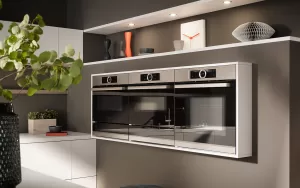 A modern kitchen cannot function without kitchen appliances. But these appliances consume electricity and contribute to greenhouse gas emissions. Should you skip these appliances to create a truly green kitchen? Not at all; instead, you can make a pragmatic yet eco-friendly move by investing in energy-efficient appliances. Top appliance brands have launched their energy-saving appliance ranges that come with the ENERGY STAR rating system. Choose appliances with 5-star ratings, as these are the most energy-efficient options for an environmentally friendly kitchen. Less energy consumption will reduce your carbon footprint.
Save water:
Nothing can be more eco-friendly than conserving natural resources such as water. Water consumption in any kitchen, small or large, is pretty high. Therefore, you must take the necessary steps to reduce water waste in green kitchens. You can look for eco-friendly kitchen sinks and kitchen faucets for your kitchen. A smart kitchen tap can also be an excellent addition to your modern kitchen design. You can control the amount of water getting dispensed by turning it on and off with a voice command. Invest in an energy-efficient dishwasher as another water-saving measure.
Replace artificial light with natural light:
Go low on energy consumption by replacing your artificial lights with natural light. If you are about to design or remodel a kitchen, you must strategically place windows and doors to let the sunlight in. You can also install skylights. As far as artificial lighting is concerned, choose LED bulbs, as these are more energy-efficient.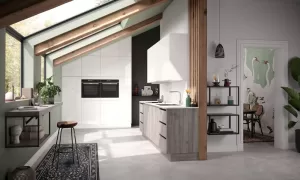 Find the right architect:
Creating a green kitchen will take time, expertise, and experience. Therefore, you should approach an architect with considerable experience in handling eco-friendly kitchen or home design projects. The design process involves acute planning at each step, sourcing certified quality materials, and careful application of sustainable practices. Do your research to shortlist architects who have completed green home and kitchen projects. Learn about their previous projects, and check testimonials before you finalize a name.
Making sustainable green choices is the right move toward protecting the environment. You will take a pivotal step by creating an eco-friendly kitchen or green kitchen. Since Haecker Kitchens prioritizes sustainability, the brand has adopted sustainability practices such as investing in carbon-neutral production. Reach out to us to learn more about our sustainable kitchen design solutions.