Are you currently planning a modern kitchen design? Are you paying attention to the details? You must know that designing a modern kitchen takes a lot of calculations, and one must pay attention to every single aspect of the kitchen design. Taking things for granted will only lead to kitchen design disasters. Kitchen storage is that important aspect of the design that should be well taken care of. If the storage is not properly planned, it will affect your kitchen functionality but and will also cause clutter in the kitchen. Here are some design blunders to stay away from while designing a modern kitchen.

Stop making these modern kitchen storage mistakes:
Not designing a separate storage zone:
In your modern kitchen, creating a separate zone for storage is a necessity many kitchen users overlook. The kitchen storage section is where you put all your kitchen essentials, including your spices, kitchen tools, and utensils. Therefore, the storage zone must have a specific spot in the kitchen, and the placement should be strategic. Whether you have luxury modern kitchen designs in mind or a simple one-wall kitchen design, you need to create a separate zone for your kitchen storage, and it must be easily accessible. It is a wise idea to put it next to the cooking and meal prep station so that you can access everything in a hurry.

Relying only on cabinets:
If you are going to rely only on the cabinets, it will lead to clutter in the kitchen in no time. For instance, if your only storage options are large cabinets, you cannot store items systematically and accessing these items will always be a hassle. However, if you take a look at a modular kitchen design, you will immediately notice how versatile the kitchen storage is. There must be an assortment of pull-out drawers, corner cabinets, and shelves to take care of the storage needs. Therefore, in your modern kitchen you must also include open shelves to take care of your storage problems. Having different storage modules will also lessen the pressure on other storage modules.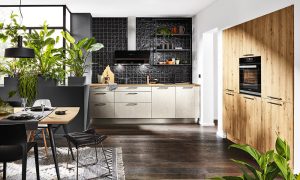 Not segmenting your items:
It is another mistake that you must avoid making. To begin with, you should separate all your kitchen essentials and create separate segments for them depending upon their usage. If you are planning a modern kitchen design, then you must create a pantry section for dry storage, have a separate drawer for the kitchen tools, and so on. You should also color code items and store grocery items in clear jars to bring order to your storage. The more systematic you are with your storage, the easier it will be for you to enhance kitchen functionality.

Hoarding items in the kitchen:
Another common modern kitchen design blunder is hoarding items in the kitchen rather than storing them systematically. If we're being absolutely honest, many of us tend to gather kitchen items that are not required. Before you finalize your luxury modern kitchen designs, it is best to declutter your kitchen. Prepare a list of the items that are a must-have for your kitchen, and leave out the rest. Throw away the previous version of an item if you're purchasing the newer model. It will help you streamline your kitchen storage, and you will end up making room for the items that you will use. It will help you save space, save money, and also keep your kitchen clutter-free in the long run.

Do not ignore the accessories:
To make your modern kitchen design functional you must create a functional storage system, and what better way to do it than by implementing the right accessories? In a modular kitchen design, one will find several accessories that help create a highly efficient storage system. Ignoring these accessories is a mistake. Look for tall units; these are slim yet spacious units that can slide in and out, allowing you to store and access your groceries in a jiffy. The bottle pull-outs, the corner accessories, and the magic corners are the saviors you must invest in. Plan your storage, and look for the accessories available to create efficient modern kitchen storage that will make your kitchen work a breeze.

Conclusion: These modern kitchen storage design mistakes are quite common and affect kitchen functionality. Therefore, do not take your storage for granted, and make sure your modern kitchen design is flawless in terms of kitchen aesthetics and functionality.
ALSO, YOU CAN READ OUR NEW UPDATES