In your home, the kitchen is the busiest and often the messiest place that demands your constant attention. The kitchen functionality is important to make your every day kitchen work easier, and an organized setting is what you need to ensure that your kitchen functionality reaches its optimal level. A modular kitchen has a streamlined design, but still one needs to make the right effort to keep it organized.  There is no need to worry about kitchen organization, no matter how many items you have to store in your modular kitchen in Delhi, you can keep everything organized with the help of these 6 organization ideas that we have discussed in the blog.
6 organization ideas for your modular kitchen:
Create zones:
In your modular kitchen you can keep everything organized with minimum effort, if you just start create zones in the planning stage itself. You perform not just one but multiple tasks in the kitchen, and when you segment each zone according to the tasks performed there, it will help you organize the kitchen space. There should be a meal preparation zone, a storage zone, a cooking zone, and a cleaning zone. It is a simple step that you can take during the planning stage and it will make the biggest difference. Once your zones are properly sorted you can proceed with your organization process further, and you will notice that you will experience less complications regarding your kitchen organization. Therefore, do not ignore this step while organizing your modular kitchen in Ahmadabad.

 Add open shelves:
Although your modular kitchen design has sufficient number of storage modules, you have to ensure that your items are well within reach and are easy to locate. Always pulling out drawers, or, looking into a cabinet to find a specific item, can be a little problematic, but if you add floating shelves around the kitchen walls and put items that you frequently use in the kitchen on them, you can easily locate and access these items. Your kitchen organization will become an easy-to-achieve process this way.  These shelves can replace your overhead cabinets, and accessing and locating anything will be a hassle-free process. On the other hand, you can also use these shelves to store your cookbooks, or, to display your finest crockery.

Keep the kitchen countertop area clutter-free:
The kitchen countertop is that place where you engage in meal preparation. Therefore, this space needs to remain clean and clutter-free. The kitchen countertop is usually littered with items like the small appliances, kitchen tools, small spice containers, coffee mugs, chopping boards etc. This scenario might vary from kitchen to kitchen, but the countertop remains cluttered in most kitchens. The key to keeping your kitchen organized, is to take care of the countertop area. Install small shelves above the counter, one for the frequently used containers, one for storing the small appliances, and another one for the tools, you can also install hooks to hang your coffee mugs. It is a simple step but highly effective in keeping your modular kitchen in Delhi organized.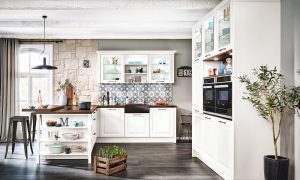 Add an island:
If your kitchen has the space for it, then add a kitchen island and it will make a big difference to your kitchen organization process. A kitchen island can be your second work station and will offer you additional storage space. You can use it to store the big utensils, and other stuff that are not required every day.  Your island can also house the appliances. However, if your modular kitchen design does not have much space in it, then a rolling cart island will be the perfect addition to your modular kitchen. You can move it around your kitchen and it will not take up much space, yet will be an efficient component of your kitchen design.

Get the right accessories:
One of the most useful features of a modular kitchen design is that it comes with a range of kitchen accessories. For your modular kitchen in Ahmadabad, you should consider exploring all the accessories options available, but should select the ones that are required in your kitchen. If your kitchen has a straight-line layout or, a parallel layout then your kitchen does not have any corner cabinets, hence the corner accessories will not be required at all. But your kitchen will need a tall-unit for housing your grocery items, a bottle pull-out will also be needed. Identifying your need and investing in the right accessories and drawer organizers can help you keep your kitchen absolutely clutter-free.

Do not hoard items:
In the kitchen, only store those items that you are going to use. Make a list of the items you have and sort them out, keep the ones that are a must-have and will be frequently used, and get rid of the ones that you will hardly ever use. Stop hoarding items, and if you have just bought a new version of an existing term, then get rid of the old one. Check and replace your cleaning supplies every three months, and also recycle old bottles and jars. It is a simple but highly effective way to keep your modular kitchen in Ahmedabad organized.

Conclusion: The 6 organization ideas shared above will definitely help you battle your modular kitchen storage problems. Get ready to organize your kitchen and create a functional and neat kitchen that you will love and cherish forever!
ALSO, YOU CAN READ OUR NEW UPDATES