A modular kitchen is efficient, as it gets tailor-made to suit your diverse requirements. It also offers you systematic storage, but at the end of the day, you too need to make some effort to keep it organized. But it is easier said than done because a kitchen undergoes so much hassle every day. Keeping a kitchen organized often becomes a challenge for the kitchen user.
We understand your hassle, and here we have put together some easy-to-follow hacks that will help you keep your Indian modular kitchen design organized.
Organization hacks for your Indian modular kitchen design:
Keep the countertop clear:
It can be the easiest hack to follow, as all you have to do is to keep your countertop clear. Your countertop surface is where you perform your meal preparation tasks. It should always be clean and tidy. If it stays cluttered with small appliances, accessories, and other miscellaneous stuff, it will soon become messy. It will be hard to locate anything in the mess, and the clutter will slow you down. Put accessories back in the drawers, and put away small appliances once they are cleaned. Do not put dirty utensils on the countertop, clean everything immediately or, at least store them in the sink one you have used them. The countertop in your readymade modular kitchen should always be clear.
Only keep what is necessary: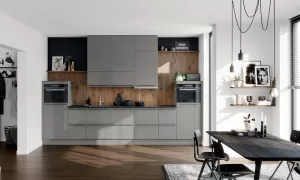 Your modular kitchen is not a storehouse. You should make a list of items that you need for cooking and serving purposes. Keep those items in the kitchen and say goodbye to the rest of the stuff. If there are multiple versions of an accessory, then get rid of the extra ones. If you have empty or almost empty jars of spices or sauces, clear them away. The fewer items you store in the kitchen, the better your chances are of keeping your small modular kitchen in Ahmedabad organized.
Get organizers:  
It always helps to use organizers to keep everything organized in the luxury kitchen. Drawer dividers are provided to organize cutlery and other small kitchen items in drawers.  There are tall units that have multiple sections for storing grocery items. Keeping everything organized and locatable gets easier when these units are utilized. There are a variety of kitchen organizers available, so pick the ones your kitchen needs.  For example, if you have corner cabinets and drawers, you need to install magic corners to store your pans and pots, or even you're other utensils. These organizers will keep your modular kitchen in Chennai organized and neat.
Labeling always helps: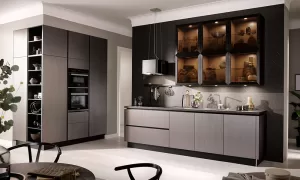 Your modular kitchen in Hyderabad can stay organized if you start using labels. It's a good way to find items easily. You should identify the different products and establish categories for them. Labels can be used for groceries as well as kitchen tools and accessories. Labeling helps you find items faster, and you can put items back where you no longer use them.
Do not ignore the walls:
You should make use of the vertical space available in your modular kitchen model. You can install small floating shelves to store some essential spice containers and tools. You can also install racks to hang pot and pan lids, and kitchen accessories. Explore the market to look for racks, hooks, shelves, and other solutions that will help you create efficient vertical storage in your readymade modular kitchen.
Be systematic about your storage:
One way to keep your modular kitchen design organized is to create systematic storage in the kitchen. In your kitchen, store different items according to your usage patterns. The spice jars and oil bottles should be stored near the cooktop area. The kitchen tools that are required every day should be stored near the meal prep zone; install a shallow drawer with dividers to store these tools. On the other hand, items that are used often can be stored in the cabinets. The tandem drawers are great for storing big pots and pans that are not used frequently along with your numerous dinner plates.
Conclusion: Keeping your Indian modular kitchen design organized will be easier once you follow these hacks. Creating systematic storage, labeling the items, and using kitchen organizers are some of the steps that can be taken to keep a modular kitchen organized. A clutter-free kitchen will be a functional kitchen, therefore, make the effort to enjoy a hassle-free experience in your modular kitchen every single day.
ALSO, YOU CAN READ OUR NEW UPDATES