Budget will play a key role in designing a modern kitchen. Whether you are designing a new kitchen or renovating an existing one, you have to stick to the budget. However, despite modern kitchen design ideas being very popular, people often refrain from incorporating the latest features because they think they are pricey and will not fit their budget. However, there are ways to plan a modern kitchen design without going over budget. Here's how.
Tips to design a modern Indian kitchen within a budget:
Go for a modular kitchen:
A modular kitchen can be budget-friendly too because it is customizable. You can customize it according to your budget and requirements. Be it the layout, the material, or the storage module style, you have plenty of options to choose from. Likewise, you can also be selective about your modular kitchen accessories and appliances and keep the modular kitchen cost low. Visit a reputed brand's showroom and talk to the dealer to learn about your customization options. Modular kitchens are not only effective, but they are also durable. Therefore, investing in a modular kitchen is a one-time expense.  No more kitchen renovations and repairs every few years.
Be selective about the material:
If you are planning a modern kitchen from scratch, you can start saving money by selecting budget-friendly materials. There are many options, including wood, laminate, granite, and marble, but you should pick ones that are resilient to stains, easy to clean, and easy to maintain. In this respect, the laminate will be an excellent choice for the countertop area, where there is a huge chance of staining. Another great option will be plywood, which will be inexpensive but an elegant choice for any modern kitchen design in India.
Select the right layout: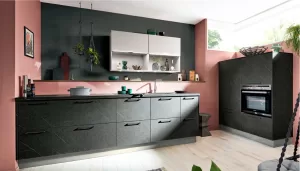 A kitchen layout is the arrangement of storage modules and kitchen appliances. Study the layouts and select one that will optimize your space. A nuclear family can do well with a straight-line kitchen layout because it does not require many modules. You can save money with your selection. Even if you have a big kitchen, you can still save money by utilizing the space with a compact layout. Only include those appliances that you need. Install tall units to save space and money on base cabinets in your modern kitchen design.
Save money with storage:
When you are designing a modern kitchen or modular kitchen, storage will be an aspect you have to take care of. You can go without the base cabinets and choose open shelves to save money.   These shelves are excellent storage modules, and you can install them anywhere you like. These are comparatively inexpensive options, and you can also opt for DIY options. These are easy to install, and maintain, and they also help keep things accessible. Install carousel units, tall units, and other accessories to create efficient storage within your budget. By limiting the number of cabinets, you can save a considerable sum of money.
Keep the kitchen's aesthetics minimal but stylish: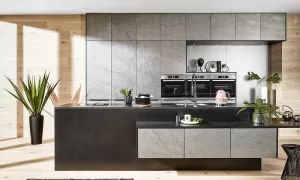 While designing a modern kitchen, you have to pay attention to kitchen aesthetics. However, you can also cut costs by easily painting your kitchen yourself. Instead of opting for expensive options, you can opt for an all-white kitchen.
If you find the all-white color scheme a little monotonous, add colorful lighting fixtures, kitchen accessories, and furniture to brighten up the space. Opt for metallic finishes while painting cabinet hardware. You can also go the DIY route while doing the backsplash.
One more way to save money on the color scheme and still keep it colorful is to select wallpapers.
Use accessories:
A modern kitchen design in India would be incomplete without kitchen accessories. Accessories like carousel units, bottle pull-outs, dish racks, and magic corners will solve kitchen storage issues, and enhance accessibility while keeping the cost low. Plan the modern kitchen you want within your budget. Furthermore, you can also invest in a rolling kitchen island to enhance the functionality of your kitchen without exceeding your budget.
Conclusion: Planning a modern kitchen design within your budget is possible, all you have to do is plan it well and explore the market to learn about affordable options. Consult a professional if necessary to design a budget-friendly modern kitchen.
ALSO, YOU CAN READ OUR NEW UPDATES