A kitchen space should be anything but dark. Can you imagine working in a kitchen where you have to prepare meals for the family? It is too risky because you have to deal with sharp objects in the kitchen; therefore, the kitchen must be well-lit.

However, if your modern kitchen is narrow and enclosed with no natural light, your kitchen can be dark. Brightening up a small dark kitchen is not impossible. You just need some suggestions. Here are some ways you can brighten up your kitchen space, let's check out what these are here.
Tips to transform your dark small modern kitchen:
Try an open kitchen plan: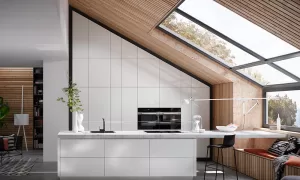 A small modular kitchen design looks and feels smaller and darker if it is enclosed and hence, it is a great idea to try out the open kitchen plan. The open kitchen layout ensures that the kitchen is open from all three sides, and it also integrates with either the dining room or the living room area. This layout helps open up the kitchen space and also makes it brighter.  There are fewer chances of being shadows and dark corners in an open kitchen.
Mirrors on the walls:
A great trick to brighten up the small Indian kitchen design is hanging mirrors on walls. You can hang multiple small decorative mirrors, or you can also hang a big statement mirror depending upon your available space. The mirrors will reflect light in the kitchen and will help in creating an illusion of space and the kitchen will also look bright.
Replace upper cabinets with open shelves: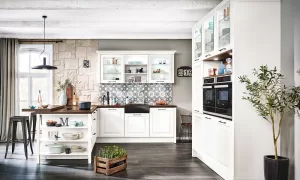 When it comes to designing your small modern kitchen in India, you should remove the upper cabinets. A small kitchen already suffers from a scarcity of space, the upper cabinets will block light and create shadows in the kitchen.

One simple way to combat this issue would be to remove the upper cabinets and install open shelves instead. The open shelves will be the perfect storage option for a small modern kitchen, and it will be easier for people to locate the items stored on these shelves.

The open shelves will not block light and since these are available in a wide variety of shapes and sizes these can be installed anywhere.
Keep your kitchen clutter-free:
One simplest way to keep your small modular kitchen design bright is by removing clutter from the kitchen. The clutter not only affects the kitchen functionality but also affects the kitchen aesthetics. If your kitchen is cluttered it would look crowded, and dark. Clear away the clutter and remove items that are not required in your kitchen. The rest of the items that you wish to keep in the kitchen should be organized and put inside cabinets, and drawers. A clutter-free kitchen will help you create a bright kitchen space.
Pay attention to the lights:
If your small modern kitchen in India is dark, then you need to pay attention to the lighting scheme in the kitchen. Artificial light must be utilized if the available natural light is insufficient.   Recessed lighting will be a good option for a small kitchen space. Add a layer of task, accent, and ambient lighting to the space to illuminate it. The meal prep and cooking areas must be well-lit for you to perform tasks in a hassle-free way.
The color scheme should be light: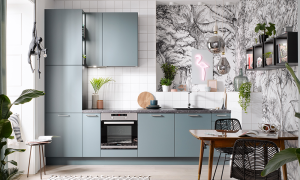 While opting for a color scheme in the kitchen area, you should choose lighter shades. White, beige, and off-white, are the colors to opt for as these colors reflect light. Be it the kitchen walls, cabinets, countertops, or backsplash, if lighter colors dominate the theme in your small Indian kitchen design, it will definitely look brighter.  While selecting backsplash tiles, cabinet hardware, and appliances, opt for reflective materials, and metallic finishes, as they will reflect light and the kitchen would appear brighter.

Conclusion:
Brightening up a dark and small modular kitchen design or, a modern kitchen design is possible. Opt for a layered lighting scheme, use lighter colors, and metallic finish, hang mirrors, and opt for an open kitchen layout. There are several ways you can brighten up the kitchen area, just plan it right.
ALSO, YOU CAN READ OUR NEW UPDATES