Nothing can be as exciting as designing your first modern kitchen. However, for beginners it can be an overwhelming experience as well, because they do not have much experience regarding the modern kitchen design. Due to the lack of experience, and expertise more often than not the beginners feel unsure about the kitchen design, and they end up feeling confused. To help them out we have come up with 7 modern kitchen design tips that are super easy to follow yet are highly effective. To know more you should read on.
Check out these 7 easy to follow modern kitchen design tips:
Do not settle for the aesthetics first:
A perfect kitchen design can be achieved by striking the right balance between your kitchen aesthetics, and functionality. But if you prioritize your aesthetics, your kitchen functionality will take a backseat. Hence, you should not start prioritizing your kitchen décor before deciding on the cabinets, work zones, material selection. It will be a wrong move. Also pick your materials wisely. The materials should be beautiful, durable, but must be easy to clean. Explore the designs for modern kitchen in India to learn more about cabinet styles, color scheme, and choose your style according to your personal preference.
Shape up your kitchen: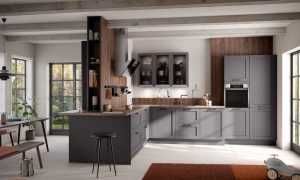 As you study the kitchen designs that are trending now, you will notice that each kitchen has a sleek shape or, layout. Some are L-shaped, U-shaped, while there are other kitchen layouts that come with an island. The modern kitchen is defined by the layout which is the arrangement of all the modules, and appliances in the kitchen. So identify the layout that will suit your kitchen space the most.  You can opt for the parallel kitchen design which can be ideal for customizing your kitchen, and for narrow spaces as well. Finding the ideal layout for your modern kitchen will ease the pressure on the rest of the kitchen design process.
Use the vertical space:
Your modern kitchen design will be functional when every inch of your kitchen will be fully optimized. While planning a kitchen the vertical space often gets neglected. You should use the vertical space in your kitchen not just for building additional storage but also for aesthetic purposes. But you should never leave your kitchen wall space blank. You may install overhead cabinets to make room for your expensive crockery or, for your spice containers. However, you should keep the cabinet height in mind. If on the other hand, you do not have any storage requirement, you can use the vertical space for décor purposes. You can install small floating shelves to put your glossy cookbooks, small plants, and even beautiful décor pieces. Your requirement should play a determining role in finalizing the design.
 Personalize your kitchen design:
While designing a modern kitchen in India you should not look for generic solutions, rather you should consider opting for a personalized kitchen design.  The placement of the cabinets, the cabinet style, appliance selection and position, work zone placements should be done in accordance with your kitchen usage pattern. How best you want to use your kitchen is what you have to keep in mind while designing your kitchen. The countertop height, the placement of the kitchen island everything should be done to ease your work in the kitchen. A personalized kitchen is an efficient kitchen.
You should not skip the kitchen triangle rule:
It cannot be stressed enough that a modern kitchen must have the work triangle. The distance between the fridge, the sink, and the cooktop must be maintained in a way that it creates an imaginary triangle. The kitchen triangle will help you access these three important sections in the kitchen even in a hurry and save time. While implementing a kitchen layout you should place the work triangle carefully. If you are designing a parallel kitchen design you must figure out how best to implement the work triangle.
The kitchen light must be right:
The kitchen lighting is another aspect of the modern kitchen design that should not be overlooked. Depending upon your kitchen's location in the house, and requirement you should design your kitchen lighting.  If your kitchen receives plenty of natural light in the day then the requirement for artificial lighting in the day will not be necessary. But during evening the kitchen must be well-lit. Create a lighting scheme avoiding issues like glare, shadow. You should invest in recessed lighting, task lighting, and also accent lighting. Task lighting will help you carry out your meal preparation and other tasks effortlessly. If you have a dining area or, an island hang the right pendant lighting fixtures.
Calculate storage needs:
When you are designing a modern kitchen, storage must be well taken care of. You must design cabinets, and other storage modules keeping your specific requirements in mind. You can replace cabinets with the latest pull-out drawers which are easier to operate and can hold so many items. Along with having the right number of storage modules, you must also pay attention to the placement. For example, a shallow drawer containing your spices or, kitchen tools should be placed near the cooking zone.
Conclusion: Keep these pointers in mind and be ready to design the perfect modern kitchen that will meet all your requirements and will be stylish as well. Explore latest styles but do not ape any, seek the inspiration to design a stunning kitchen.
ALSO, YOU CAN READ OUR NEW UPDATES