The modern kitchen design has evolved as the old kitchen design is no longer considered a viable option to anyone. Now the kitchen design is more systematic and a layout plays a significant role in creating a compact kitchen space. Before designing or, remodeling a kitchen it is advisable to go through the available layouts so that one can decide which one would be absolutely perfect for their kitchen. Getting a thorough knowledge of different kitchen designs would help you find the ideal layout that will be absolutely perfect for your kitchen design. Here's discussing a popular kitchen design in India, the parallel layout and its pros and cons, go through them now.
What are the pros and cons of the Parallel kitchen design?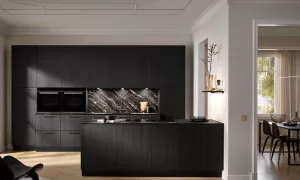 Before we delve deep into this matter, we need to figure out what parallel kitchen is all about? The parallel kitchen design is also known as the galley kitchen, and also a corridor kitchen. This kitchen design is basically ideal for narrow kitchen spaces, and it is flexible enough to fit both small and big kitchen spaces. In this kitchen design two separate kitchen counters run parallel to each other, and there is room left between these counters. There could be doors or, windows on both sides. This layout is ideal for a small apartment, and it would also be perfect for a luxury kitchen design.
Let's start from analyzing the pros.
​
Pros of parallel kitchen design:
Efficient:
If you are searching for the most efficient kitchen design then nothing could be smarter than the parallel kitchen design. The implementation of the work triangle gets easier when you work with this layout. The work zone in the kitchen becomes super-efficient, as you can easily switch from one place to the other without any hassle. Things can be super-efficient, and flexible, when this layout is implemented you can easily move from the refrigerator to the hob to the kitchen sink in a jiffy. The modular kitchen ideas could be implemented easily.
Adequate storage:
One of the pros of the parallel kitchen is that you can expect to get your hands on sufficient amount of storage. You can reserve the entire counter running through one wall for the storage purposes only. You can easily build the adequate amount of storage that is required in the form of drawers, cabinets, shelves. With this kitchen design in India, you can store everything in your kitchen in a systematic way; there will no room for clutter. The kitchen will be absolutely a clean place; you can keep the storage section absolutely separate from the main work zone. This will inevitably enhance the kitchen functionality.
Customization:
The kitchen design must be customized if you want your kitchen space to become absolutely efficient. Every element in the kitchen must be placed accordingly in a way that you can access everything in a jiffy. The customization reaches a whole new level when you opt for a parallel layout. You can have as much countertop space as you need, you can build as many storage modules as you need, you can also create different zones in the kitchen, all of that would help you customize a kitchen design that would be ideal for your needs. Whether you have a small kitchen space or, a luxury kitchen, this layout lets you customize it in the right manner.
Saves space and navigation is easy:
If you want a compact layout that lets you save space then you should consider exploring the parallel layout. This layout enables you to save space as this can fit into any kitchen space like a glove, and you can work with it no matter how small the space is. The counters are placed opposite of each other, and take all the elements in their ambit thus leaving ample space for the user to move around in the kitchen. Furthermore, this kitchen layout is ideal for kitchens with multiple cooks. Implementation of modular kitchen ideas gets easier if you have the right amount of space.
Cons of parallel kitchen design:
There might be space constraint:
The parallel kitchen is ideal when there is sufficient place available, but if the place is small enough then this layout is going to cause space constraint issue. In a small kitchen space this layout might feel constricting, and movement will become haphazard.
The layout might not be ideal for big families:
When you have this kitchen design in India in place, there might be some problem regarding the utilization of all the elements if there is not much space available. You will have limitations in term of storage, countertop, and other elements. So, big families who need multiple storage units and at least two separate workstations in a small kitchen space, this may not be the right layout to try out.
It might be dark:
The galley or, parallel kitchen layout works well when there are windows or, doors through which the natural light can come in. In a small enclosed space with no provision for windows and doors, the kitchen might become a dark place and the user will have to rely on the artificial light.
Conclusion: Those were the pros and cons of parallel kitchen design, which you should be aware of before you opt for it. If you find that you can work with the pros and the cons won't affect your design, then this is a smart layout that you must opt for. However, if you do not find it suitable enough, then look for other layouts until you find the right one.
ALSO, YOU CAN READ OUR NEW UPDATES