The Indian kitchen is indeed a busy zone that is filled with heavenly aroma and where mouth-watering meals are cooked for the whole family. The Indian kitchen design needs to be ergonomically built to make the kitchen a functional place. However, more often than not due to poor planning the kitchen design gets flawed and it affects not only every day kitchen work, but also the storage capacity of a kitchen. In a situation like this remodeling a kitchen is a necessity, but due to the remodeling cost and additional hassle associated with the process it often gets neglected. But how do you know that it is time to remodel your kitchen? Here are 6 signs that you have to remodel your Indian kitchen design.
Watch out for these 6 signs:
There is lack of storage:
A kitchen needs to have a sufficient amount of storage modules so that every kitchen item can be stored neatly, and will be accessible when required. The lack of kitchen storage might lead to clutter in the kitchen, and that can be detrimental for the kitchen health and working in the kitchen will be an issue, because accessing specific items will be a hassle.  If your current kitchen design does not provide you with a sufficient amount of kitchen space then it is a good idea to remodel your kitchen design.  Explore modular kitchen ideas before you redesign your kitchen cabinetry, however, it is a good idea to do a proper calculation to figure out how much space is required, only then you will be able to come up with a storage solution that works for you. If it is not possible to replace your current cabinets, then you should install kitchen accessories like the tall-units.
 There is lack of space and your movements are obstructed:
Although we hardly pay attention to the space available for movement in the kitchen while we work, it is highly essential. The modern kitchen design has completely transformed our kitchen concept by introducing us to a host of innovative layouts that optimize the kitchen space. If you are having trouble moving around in the kitchen, or, accessing certain points is a laborious task, or maybe there is unused space in the kitchen, you should definitely remodel your kitchen. Survey your kitchen and come up with a layout that optimizes your kitchen space. Keep the kitchen traffic in mind, and leave wide enough passageways to ensure that you can move around in the kitchen without any kind of hassle even when you are in a hurry. If it is really small and enclosed then you should try out the open kitchen concept.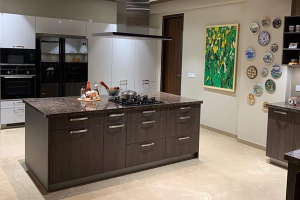 It has started to look old:
Kitchen aesthetics is also an important factor which should never be overlooked. An ideal Indian kitchen design will not only be functional, but it will also be aesthetically pleasing. Therefore, if you notice that that the kitchen design is looking old, the paint has faded, and the cabinetry is looking absolutely jaded then you must opt for a remodel. You can repaint the kitchen and before doing it check out the trending kitchen color palette, and select a shade that suits your kitchen style and theme. A white kitchen can be uber-stylish, but make sure that it does not look bland. Balance it out with metallic finish, or you can also go for a dual-toned look. Repaint your cabinets and do not forget to change the hardware. Also change your backsplash.
The lighting scheme is not working for you:
Kitchen lighting is often taken for granted and it results in the kitchen being poorly lit. Kitchen lighting impacts kitchen functionally and also kitchen aesthetics. If your kitchen is in a semi-dark state and it is really affecting your daily kitchen chores, then you should consider changing it through a kitchen remodel. Let as much natural light in your kitchen as possible, and as far as artificial lighting is concerned look for pendant lighting, and accent lighting fixtures that can transform your kitchen in no time. Let your modern kitchen design shine brighter.
Your kitchen design is dated:  
One more reason to consider a kitchen remodel project would be the fact that your kitchen features are dated, and you want to make your current kitchen design a bit snazzy. The boring bulky cabinets, the blank unused spaces in your kitchen are not only a waste of space, but also look so bland. Now a modern kitchen has unique features like open shelves, snazzy pantry units, tall-units, pull-out drawers and what not. You can also explore modular kitchen ideas and check out features that you think will enhance your kitchen functionality.  Once you are sure what you want to implement and you do have a requirement for a specific feature, you should consider opting for the remodel project.
Kitchen maintenance is a big hassle:
Kitchen maintenance is a big issue that kitchen users have to face, and if you do not include this factor during your initial kitchen planning phase getting a remodeling done later is a necessity that you cannot avoid. If you are making efforts, yet you are unable to keep your Indian kitchen design clean then it is a sign that a remodeling must be done. However, all you should do here is to talk to an expert before you take the final decision. You might need to change the kitchen materials to make them easy to clean, and you should also select something that will last you long.  Explore the market to check out the available materials before you implement any changes.
Conclusion: These 6 signs are the clear indicators that you have to remodel your Indian kitchen to make it functional and stylish. However, do not get carried away and take a pragmatic approach, and keep your budget in mind before you start a remodeling project.