A modular kitchen is more than just a kitchen it is an asset that you invest in. Now that the modular kitchen concept has won the hearts of modern kitchen users, many are turning to this concept to build their first kitchen. However, designing a modular kitchen might seem like a complicated task if you are not aware of how you should plan it. The modular kitchen is functional because it is systematically planned, so if you are about to take the plunge and plan your first modular kitchen, start by checking out modular kitchen designs and price. We have listed a couple of factors that might help you plan the perfect modular kitchen.
Facts to keep in mind before you design your first modular kitchen:
The right layout:
It cannot be stressed enough that layout plays a significant role in a modular kitchen design. Therefore, the first step to designing your modular kitchen in Delhi is to select the right layout. Do a sketch of the kitchen space that you have and start exploring layouts that would justify the space. Plan every detail carefully including the placement of the appliances. You should implement the golden triangle rule as well by placing the cooktop, the sink, and the fridge strategically. The layout should optimize the space, and will streamline your kitchen design. Be careful with the placement of different modules and make sure you are placing them in a way that you can access them without any hassle.
The counter top and the cabinet height: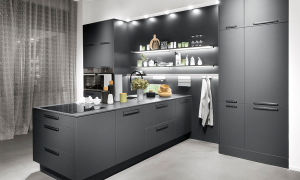 The kitchen counter top is the place where we do meal prep. However, during kitchen planning we often take it for granted and later on we have to have to deal with the inconvenience of a poorly designed countertop. So before designing your modular kitchen in Indore you must pay attention to your countertop area especially the height of it. It should not be too high or, too low but just about the right height for you. Likewise if you are planning overhead cabinets then pay attention to the height again. You must place the cabinets at a height that makes it easier for you to reach and to access the items within.
Plan your storage right:
As you start planning a modular kitchen, the next aspect that you need to keep in mind would be the storage. Not having an adequate amount of storage would mean that the kitchen would be in a cluttered situation. Therefore, it is best to be precise about your kitchen storage needs, so that you can tackle the storage issue and build the right number of storage modules. The placement of your storage modules must be done right so that you can access items even during the rush hours without any confusion. As you explore modular kitchen designs and price, check out the latest modular kitchen storage styles and you would be able to choose the right model. The drawers perhaps would be a better option than the cabinets. Opt for storage modules which are functional and stunning in design.
Plan different zones:
In your modular kitchen in Delhi you will have different zones where you will be performing different activities. Creating separate zones based on activities will help you keep your kitchen organized and it will also make the kitchen functional. Plan every zone carefully and select modules accordingly, make sure that the cleaning zone is next to the cooking zone and the storage zone is next to the meal prep zone. Plan every aspect carefully before you finalize a design. Keep your plumbing and electrical needs in mind, before you plan specific zones.
Only choose the necessary accessories and appliances:
As you start planning your modular kitchen in Indore, you will explore the modular kitchen showrooms where you will be introduced to modular kitchen accessories. It might be tempting to select accessories at a random, but it will only add to your overall cost. The smartest move will be to select only those accessories that your kitchen needs, such as the small kitchen with corner cabinets will need a carousel unit, likewise a tall-unit would be a must-have for kitchen which needs a pantry but does not have the space for it. Be selective with appliances as well, do not pay for an appliance if you do not need it.
Conclusion: The above mentioned factors will help you design the ideal modular kitchen and do not forget to compare modular kitchen designs and price before you finalize your decision. Always approach the best brand to get the best value for money.
ALSO, YOU CAN READ OUR NEW UPDATES