The modular kitchen designs are a true blend of style and functionality. A modular luxury kitchen requires a carefully crafted design, the addition of clever features, and the appropriate choice of hues, and materials. Hacker Kitchens offers exclusive choices in terms of colors, materials, and finishes, allowing our customers to personalize their modular kitchen to match their style.
However, we also present a collection of exclusively crafted, magnificent modular kitchen models in traditional, modern, and contemporary styles. We have previously introduced you to three different modular kitchen models. This blog post will feature a modern kitchen design with a classy twist! Are you feeling intrigued to explore? Here's presenting AV 6082 GL Elegant Walnut. 
Modern kitchen design: AV 6082 GL Elegant Walnut from Hacker Kitchens
The elegance of walnut contrasts with classy black: 
The modern kitchen design is beautifully minimalist in walnut, with a muted black color accentuating its modern aesthetics. A veneered surface in elegant walnut looks impeccable and lends a subdued yet classy vibe to the kitchen. The modernized wooden fronts are handleless and straight-lined. 
The combination of black and grey on the island and cabinet shelves match the wood structure of the luxury kitchen, and the handleless feature gives the modular kitchen interior a streamlined look. The handleless floor-to-ceiling cabinetry is ideal for a spacious kitchen with large storage needs. 
 The cabinets also have in-built appliances that again contribute to creating a contrast. The black island in the kitchen has a sink and a cooktop. The flat-paneled island cabinets provide additional storage space and enhance kitchen functionality. The handleless cabinets and drawers are a key modern kitchen design feature that reduces visual clutter.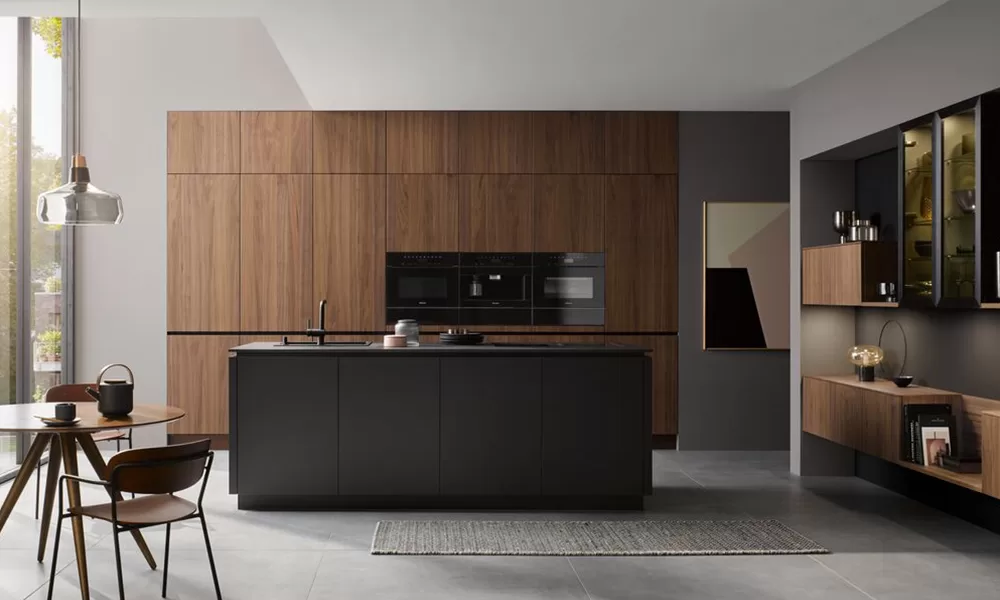 The clean layout:
It is a large modular kitchen that shows clever utilization of space; this open-concept kitchen gets abundant natural light. It is the perfect illustration of a simple yet opulent modern kitchen design.  Although this kitchen has all the modern elements of kitchen design, it has a timeless appeal. 
The kitchen layout has a work triangle that enhances kitchen functionality. The kitchen is well-designed with ample space for easy movement, featuring intelligently placed cabinets, shelves, and an island. 
This kitchen is ideal for entertaining your guests. The clean lines and flat handles of the cabinets and drawers have lent a sophisticated look to the kitchen. With its handle-free design, the modern kitchen not only achieves a streamlined aesthetic but also creates the illusion of a more spacious environment.
The storage units:
The AV 6082 GL Elegant Walnut is a stunning luxury kitchen model with plenty of storage options. Consider your storage needs while designing kitchen storage units. Since it is a modern kitchen design, all the cabinets and drawers flaunt a clean, handleless front. 
Hacker Kitchens offers a plethora of storage unit styles to meet diverse requirements. 
These cabinets simplify the modular kitchen layout and their intelligent design makes them easier to handle. The shelves placed on both sides of the kitchen island serve a grand purpose. The beautiful combination of walnut and black shelves has small lift-up cabinets. You can put your crockery on these shelves, and the lift-up cabinet door makes it easier to access them. The glass cabinets on either side are ideal for showcasing crockery and decorative items. You can be as creative as you want to be with your display. 
View this post on Instagram
Just below the worktop, there is a cutlery drawer with smart dividers. At Hacker Kitchens, we know that an organized kitchen is a functional kitchen. Check out the dividers that help make room for all the cutlery items without letting them roll away from their designated slots. You can check out the smart kitchen solutions from Hacker Kitchens here. 
The addition of open shelves in the kitchen enhances both its functionality and aesthetic appeal, especially when they are beautifully illuminated.
If you love this Hacker AV 6082 GL Elegant Walnut modular kitchen model, reach out to the Hacker Kitchens showroom in your city and inquire about it. We have an amazing collection of exclusive modular kitchen models that are functional and stylish. Visit our showrooms to explore the latest luxury modular kitchen designs to choose your preferred model.