Indian cuisine is known for its rich diversity. The aroma wafting from an Indian modular kitchen promises a mouthwatering platter filled with diverse flavorful and colorful dishes. Each region in India has a unique cooking style, which is reflected in its signature dishes.
During the cookout sessions hosted at the Hacker Kitchen modular kitchen showrooms, we bring together talented chefs from across the country, who whip up lip-smacking regional delicacies in a Hacker modular kitchen. These cooking lessons assist us in demonstrating how to effortlessly prepare and serve any Indian cuisine in any modular kitchen designed by Hacker Kitchens.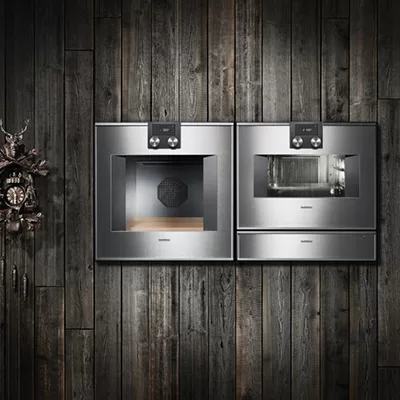 Today Chef Karan Kakkar prepared a traditional Indian recipe at a modular kitchen showroom in Indore, which belongs to the heart of India, Madhya Pradesh. This recipe is known as Dal Bafla, a variation of the famous Rajasthani Dal Baati Churma. Learn how to prepare this recipe in your Hacker modular luxury kitchen.
How do you cook Dal Bafla in your modular kitchen?

Before we start with the recipe, let's learn about this traditional Malwa dish here.
The name of the dish suggests the resemblance it shares with the traditional Rajasthani dish Dal Baati Churma. The baati is baked in the oven, but Bafla is boiled first, and then it is baked. Due to boiling, the Baflas become soft and have a light texture. They are served with traditionally prepared Tuar dal. Dal Bafla is a highly popular dish that you can learn to prepare in your Hacker luxury kitchen.
Let's check out the ingredients and recipe here.
Dal Bafla: The Ingredients

Whole Wheat Flour – 1 cup
Makka Flour – 1/4 cup
Ghee – 1 tbsp
Ajawain – 1/4th tsp
Turmeric – 1/8th tsp
Salt – 1/8th tsp
For Bafla Stuffing:

Boiled Potatoes – 1 cup
Ginger – 1/2 tbsp
Green Chilli – 1 tsp
Jeera – 1/2 tsp
Hing – 1 pinch
Turmeric – 1/8th tsp
Red Chilli Powder – 1/8th tsp
Salt to taste
Chopped Coriander
For Boiled Dal:

Tuar Dal – 1/2 cup
Onion- 1 small
Green Chilli- 1
Turmeric – 1/8 th tsp
Salt – 1/8th tsp
For Tadka:

Ghee – 1 1/2 tbsp
Jeera 1 tsp
Kashmiri Lal Mirch – 1
Green Chilli – 1
Onion – 1
Tomato – 1
Red Chilli Powder – 1/2 tsp
Turmeric – 1/8th tsp
Hing – 1/8th tsp
Chopped Ginger – 1/2 tbsp
Chopped Garlic – 1/2 tbsp
Salt to taste
Chopped Coriander

The Method: Bafla
The chef starts by preparing the Bafla. In a bowl, take whole wheat flour, add 1/4 cup of Makka flour, some ajawain seeds, some salt, and a pinch of turmeric powder. Now it is time to add a generous amount of ghee to the mixture; the chef explains that the ghee will make the Baflas a little crunchy.
Before combining all ingredients, add water to ensure proper incorporation of ghee and other ingredients. Once the mixture resembles fine breadcrumbs, add enough water to form a dough. The dough should not be too hard or soft; it should be pliable enough. Let the dough rest for 15–20 minutes.
The Method: Bafla Stuffing

As the chef starts preparing the stuffing, he demonstrates a unique feature of the Hacker modular kitchen design, namely the 'The Flying Bridge' counter. It is an intelligent modular kitchen feature that offers a spacious worktop area, and the chef slides it out to reveal the inbuilt hob! It is such a convenient modern kitchen design feature that any kitchen user would appreciate.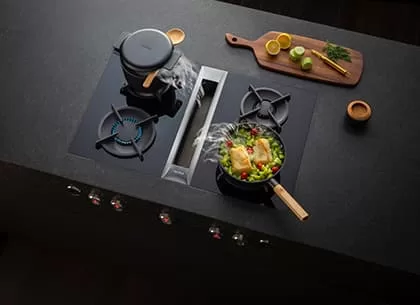 Now let's get back to our recipe, where the chef placed the pan on the hob and put some ghee in it. Next, add 1/2 tsp. jeera to the ghee. Wait till the jeera sizzles, then add chopped ginger and chopped green chillies and cook until you notice them turning a light brown shade. Add the potatoes to the mixture and cook the potatoes for a minute.
Sprinkle red chilli powder, turmeric powder, and a pinch of Hing. Mix, add some water, and cook until the potatoes reach a consistency where you can mash them with the back of your spoon. Once the mixture reaches this consistency, finish off with chopped coriander.
The Stuffing Process:
Divide the dough already prepared into 8 pieces. Now take a piece and flatten it by putting light pressure on it. Take a little potato filling and put it on the flattened piece of dough. Cover it and shape it into a ball. Once the Baflas are all stuffed, take a tray, grease it, and place the Baflas neatly on the tray. Now it is time to steam the Baflas for 15 minutes. Next, set the oven to 200 °C and bake the Baflas for 20 minutes.
The Method: Dal
It is time to prepare the dal, and for that, put the ghee in a heated pan, wait till the ghee melts, and add the jeera. Let the jeera sizzle, and then add one Kashmiri dry red chilli followed by one green chilli; break the green chilli into two parts to prevent it from popping and splattering the ghee all around.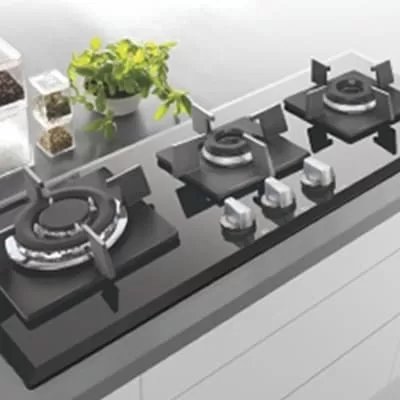 Time to add chopped ginger and garlic, stir until light brown. Now add chopped onion, followed by some salt to sweat the onion. Let the onion turn brown, add the red chilli powder, turmeric, and hing, mix well, and then add the chopped tomatoes. Add water to the mix to let it cook well. It's time to add the boiled Tuar dal and cook until it becomes a homogeneous mixture.
Dal Bafla: The Serving
Take the Baflas out of the oven and, one by one, dunk the Baflas in a bowl of ghee to generously coat the Baflas in ghee. It is time to serve.
The chef beautifully plated the dal Bafla by putting the Baflas in earthen bowls and pouring the hot dal over them. He finished it off by garnishing it with chopped coriander and wrapping it in a spoonful of ghee.

Save this recipe for later!

Prepare this traditional recipe in your Hacker modular kitchen today and enjoy! Hacker modular kitchen models have innovative features that aim to make your cooking experience hassle-free and smooth. Visit your nearby modular kitchen showroom to explore our exclusive luxury modular kitchen designs and price.