If you have recently been busy hunting for that perfect modular kitchen layout by scouring through
magazines and browsing countless blogs, then there is one layout that has always been prominent and
probably was featured at the top of every single blog, and that is the L-Shaped layout. The L-Shaped
design is gaining momentum and there are scores of images available which proudly showcase the
dazzling kitchens that resemble the alphabet L. In this design two cabinet lines merge alongside a wall
and you have space in the middle. This is definitely a smart and the most coveted design for any kitchen
space as this immediately grabs your attention, but for a small kitchen space this could be the ultimate
savior. The modern elegant kitchen designs of L-shaped modular kitchens can truly enhance the
functionality, let's find out why it is considered to be so advantageous.
L-shaped Modular Kitchen Design: What are the benefits?
Ideal for a small kitchen:
Not everybody can afford spacious kitchen, so, for those small even tiny kitchen spaces this particular
shape is ideal. There is no room to splurge on a lavish design? The L-shaped design would take care of
this issue, offer the owner enough space to build smart storage and countertop area, and leaving ample
amount of space in the middle so that it does not block traffic and, you can actually have an island.
Perfect shape for an open kitchen: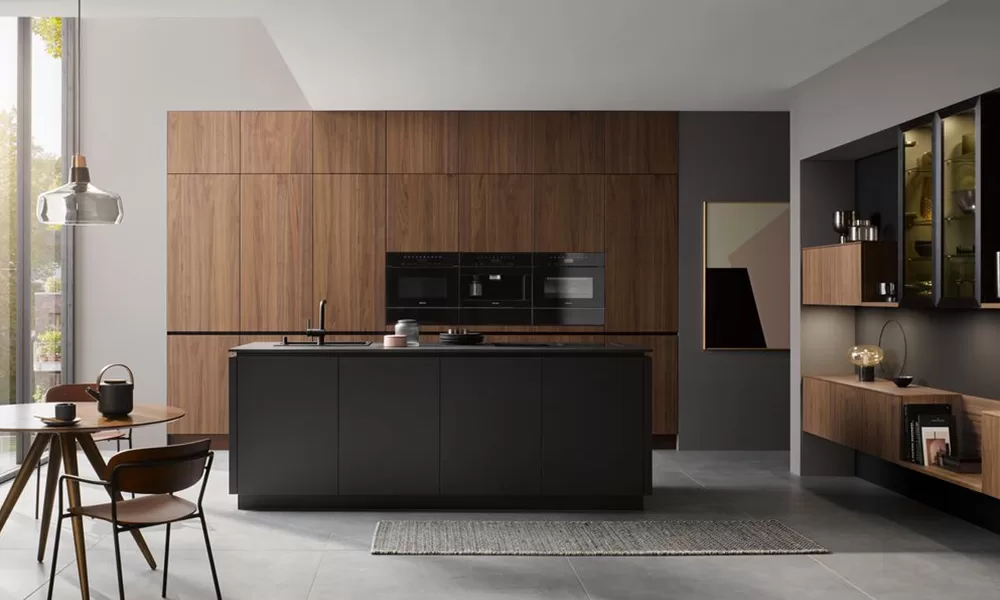 Now most apartments in the urban areas have the open kitchen concept, which is gaining popularity
because this works well when you do not have much space, and also because there are less barriers so
creating an intimate experience by merging different areas gets easier. So, for your open kitchen concept
no layout would fit better than the L-shaped one. From the best modular kitchen designers in Chennai
to Kolkata, everyone would insist on an L-shaped kitchen design. Although there would be a clear
demarcation, you would get to enjoy cozy moments while cooking dinner for your family.
The corners are saved:
Usually in a regular kitchen, the corner areas go to complete waste as execution of an innovative design
seems impossible. But the L-shaped kitchen saves your corners and you can easily use that space to
build your cabinets and when you have smart pull-out designs in place you would make the most of the
kitchen space. Furthermore you will have adequate amount of space for storage as well as your
countertop.
The kitchen triangle:
The golden area or, the kitchen triangle can be cleverly positioned in this shape. The stove, refrigerator
and sink would be positioned at the right distance from each other and the open space in the middle
would ensue that the movement between these areas is absolutely hassle-free and fast. In fact, if in your
kitchen there are more cooks than one then you must consider this layout.
There is room for an island:
It is true that an island kitchen design requires space, but if you are cleverly planning your kitchen layout
then merging an L-shaped kitchen layout with an island kitchen can be smoother. You have open space in
the middle, so why let it go to waste? You can easily build a small kitchen island and take advantage of
the design by converting into a second workstation, additional storage space or, even better a dining
area. Approach modular kitchen manufacturers in Mumbai, or, the city you reside in to come up with
clever solutions.
The L-shaped kitchen layout has so many benefits to offer, if you are in the middle of your modular
kitchen design planning then you might want to give it some thought. Make the most of what you have
and innovate, the sky is your limit.
READ ALSO OUR NEW UPDATES