Bengaluru, hailed as the "Silicon Valley of India" is one of the fastest growing megacities in the country. The city's demographic is marked by the presence of busy professionals, and entrepreneurs. The city is home to both sprawling houses as well as snazzy apartments; the kitchen design trend here veers mostly towards modern and contemporary kitchen styles.
Haecker Kitchens is a favorite modular kitchen brand in the city. We have won hearts by providing customized design solutions to the clients, and we have also become a top choice for many architects in the city.
During our interactions with clients here, we have noticed people in this city are well aware of the kitchen design trends and want to be a part of the design process. They mostly prefer a contemporary kitchen design that is functional and trendy.
But what is the secret to creating contemporary, functional kitchen interiors in Bangalore? We spoke to Architect Rohan Rathi, the principal architect at Rathi Associates, whom we have collaborated with for years, and he shared his expertise.
Creating contemporary, functional kitchen interiors in Bangalore? Here's what to know
His firm works on residential, commercial, and hospitality projects; the philosophy he and his firm follows is-" form follows function". For him, it is important to understand how a particular space works to determine its functionality. Once the functionality is established, the form would follow.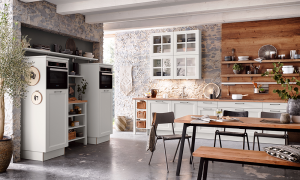 He, too, emphasized that Bangalore clients are well-traveled and particular about how they want to design their kitchens. Architect Rathi wants to create minimalist and uncomplicated designs; he prefers the contemporary approach while designing kitchens. He shared his expertise and discussed factors crucial to designing a functional contemporary modular kitchen.
A minimalist Indian kitchen is easy to maintain:
Architect Rathi points out that the kitchen plays a significant role in a home. Following his design philosophy, he prioritizes kitchen functionality. He likes to keep residential Indian kitchen designs minimal and contemporary, and he states that a streamlined design is a great fit for Indian kitchen spaces. As he explains, a contemporary kitchen is easy to maintain.
Kitchen lighting and ventilation must be good:
Once the kitchen location gets finalized, architect Rohan Rathi delves deeper into the kitchen design process ensuring the kitchen lighting and ventilation are well taken care of.
It cannot be emphasized enough how important it is to have enough light in the kitchen as it influences kitchen functionality. It is better if you can let in natural light. If it is not possible, compensate for its absence with a careful selection of artificial lighting fixtures.
We had previously done a blog on kitchen lighting tips. You can check it out here-
CHECK OUT THESE MODERN KITCHEN LIGHTING TIPS FOR YOUR MODULAR KITCHEN!
Good ventilation is equally important as it impacts health,hygiene, and air quality in the kitchen. Proper lighting and ventilation hold the key to creating functional kitchen interiors in Bangalore.
The kitchen pantry and storage:
The next phase in the kitchen design process is to create the pantry unit and storage area while keeping the utility factor in mind.
Well-planned storage can enhance kitchen functionality, and a well-designed, sleek pantry unit can minimize clutter in the Indian kitchen designs.
A dry and wet kitchen:
The contemporary kitchen design is now more extensive in nature, and has separate sections for light meal preparation and heavy-duty cooking, namely the dry kitchen, and wet kitchen areas. The focus must be put on creating distinct storage areas for each, keeping the utility in mind.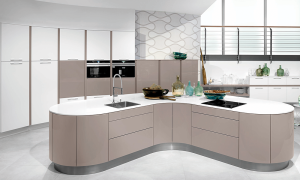 Creating two distinct zones assumes significance in a contemporary modular kitchen, as the kitchen is now also a place to entertain guests and interact with the family. Having two different zones will enhance the overall functionality of the kitchen space.
The kitchen design flow must be maintained:
While discussing the contemporary kitchen design in Bengaluru, architect Rathi mentions that many homeowners in Bengaluru prefer having a breakfast counter in the kitchen. As an architect he insists on maintaining a proper flow in the kitchen while implementing diverse elements.
Maintaining kitchen flow is essential to ensuring its functionality. If it is easy to navigate around, and every section is accessible, it will certainly make a big difference to the user experience.
Architect Rathi has touched upon some valuable factors for designing contemporary functional kitchen interiors in Bangalore. He has been working with Haecker Kitchens for more than a decade, and has collaborated with us across different locations for diverse residential projects. He finds Hacker to be highly convenient; he and his clients appreciate the customization options, color, finish, quality, and most importantly, its serviceability.
Pay attention to kitchen design flow, lighting, ventilation, and functionality in mind while designing a contemporary kitchen. Visit a Haecker Kitchens showroom in your city and select from our traditional, contemporary, or modern range of kitchen designs.
ALSO, YOU CAN READ OUR NEW UPDATES