It is hard to imagine today's kitchen to be anything but an inefficient and unplanned space where the cooking takes place. No, thanks to the advent of the modular kitchen concept the kitchen design ideas changed and now it has completely transformed the kitchen design. Now efficiency and aesthetics both matter and a fine combination of these two elements is what a modern homeowner wants. The modular kitchen does provide that and for the sheer brilliance of the designs they get appreciated. It is needless to point out that the modular kitchen has become popular and it has been winning hearts. Let's find out why it is such a popular choice before you get a modular kitchen in Hyderabad.
Modular kitchen designs: Unlock the secrets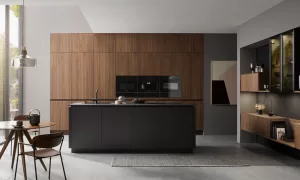 The aesthetics: The modern kitchen design has to be aesthetically pleasing and with the modular kitchens you can be sure of getting your hands on the most elegant and updated design. From the beautiful color combinations, to the beautifully conceptualized layouts every element is trendy and perfectly aligns with the user's taste as well. It is so easy to create a synchronicity in the interior design of one's home with the modular kitchen. The variety that it offers is simply astounding. Visit any modular kitchen showroom and you would be thrilled to find the stunning ideas that have taken shape in the form of modular kitchen designs. The diversity of choice allows you to choose the best one that suits your need; there is no need to settle for anything less than perfection.
It is completely customized: The design for modular kitchen could be fully customized. This is reason enough why the concept is getting so popular now. If the kitchen you work throughout the day is built according to your unique set of requirements then what can be better than that? You cannot expect a carpenter and his full team to accomplish this, as there would be some limitations on their part. What a modular kitchen design can bring to the table is astounding. You can specifically choose every tiny detail of your kitchen, you can choose materials to make your kitchen durable and also easy to maintain. You can choose storage modules as per your storage needs, for a small kitchen you won't need much, but for a large kitchen you can opt for a combination of base cabinets, open shelves and also tandem drawers. This does make everything so easy and ensures that the kitchen becomes fully functional. Talk to the dealer of modular kitchen in Hyderabad and communicate what you want.
The installation is simple and so is maintenance: The modular kitchen unlike the carpenter-made version does not need to be built in your home. It is factory made, you finalize the kitchen design and the modules are then manufactured accordingly. They are then transported to your home and get installed without any fuss. There is no mess to deal with and no wastage of time.
Furthermore, the modern kitchen design should be easy to maintain as well, and nothing can beat the modular kitchen in this respect. You can choose materials that are easy to clean and would be long-lasting. The modular kitchen comes with a powerful kitchen chimney which means your kitchen will be smoke, and dirt free. You can also deep clean the modules since they are all detachable.
High functionality: The modular kitchens are designed to be functional, by customizing the design for modular kitchen you make it even more efficient. The implementation of the golden triangle rule, smart storage modules, cool organizers and accessories that have innovative designs would make your kitchen work hassle-free. You can rely on magic corners, tall-units, and smart drawers with organizers inserted to keep things neatly stored will make everything so easily accessible. Have kitchen corner issues? There are corner cabinet designs that allow you to fully optimize your kitchen design. There is no need to worry about your space getting wasted as the smart layouts would take care of it. You will be enjoying your time in the kitchen as everything will be so flawless.
Conclusion: The above mentioned reasons are enough to understand why the modular kitchen design is winning hearts. The idea that lies behind the concept is to make kitchen functional, and when you look at the beautiful designs it is hard to resist yourself. Just approach a top brand of modular kitchen in Hyderabad and be aware of your needs and communicate them accordingly.
ALSO, YOU CAN READ OUR NEW UPDATES