Getting the kitchen design right is a complicated task as there is a lot of planning involved.  A modern kitchen design is not just beautiful but it is also functional. Usually the stress is put on getting the color scheme, and other detailing right, and in the process kitchen functionality takes a backseat. Design mistakes are made and that makes the kitchen an awkward place to work in, and soon the kitchen gets messy. Here 10 common kitchen design mistakes have been listed, go through the list so that you can be aware of them when you decide to design your kitchen.
Do not make these 10 common modern kitchen design mistakes:
Selecting any random layout:
Although a kitchen layout plays the most significant role in enhancing a kitchen's functionality, it is often the most neglected element. This is a mistake that will ruin your kitchen's functionality. However, choosing the right layout can make a world of a different for your modern kitchen design in India. Measure your space and also plan where do you want to put the cabinets, where should the cooktop go, and when you are clear about the details, you should choose a layout accordingly.
Not designing according to budget:
You have to keep your budget in mind whether it is a new kitchen you are planning or you are remodeling your old Indian kitchen design. If you do not plan the budget right, the expenses might shoot up later and that might cause a big problem. Learn about the material cost, the cost of construction, and then move accordingly. Do not compromise on quality, if you want to make your kitchen functional and look for materials, and design options that fit your budget right.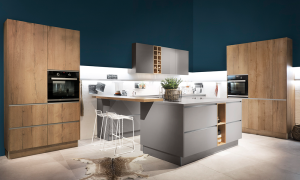 Not planning enough storage:
When it comes to creating an efficient modern kitchen design, storage will play a significant role. The trick is to calculate the storage requirement that you have and build storage accordingly. If you ignore this rule and do not plan your storage right, you will end up with a messy kitchen space that will make your kitchen work difficult. So do not ignore the storage and plan it right.
Following trends without thinking:
As you get down to design your kitchen you should look for inspiration and for that you have to explore different designs. But aping any design without keeping your specific kitchen requirement in mind would be a mistake. For example, opting for the open kitchen plan without having any requirement for it would be a mistake. Open plan kitchens work best for apartments where there is lack of space. Do not stuff your modern kitchen design in India with unnecessary features.
Not planning the right lighting scheme:
Just like the layout the kitchen lighting is also taken for granted. It is always wise to opt for a lighting scheme that makes yours bright. If you choose a single source of a light, that will affect kitchen functionality.  In the kitchen you have to engage in meal preparation and do other tasks like cleaning, therefore, you should implement task lighting to ensure that your kitchen is well lit.
Ignoring the kitchen ventilation:
The kitchen must be well-ventilated or it will become an unhealthy space that is filled with dirt and food odor. Make room for windows so that your kitchen air remains fresh, and also install a good kitchen chimney.  Remember a chimney is a must for a modern kitchen design.
Ignoring accessibility:
The kitchen is the place where from the utensils to the spices a variety of items are stored. Therefore, you should plan your modern Indian kitchen design in a way that you can easily access any item in the kitchen without any hassle. But ignore the accessibility aspect, and your kitchen will become a mess. Therefore, plan where the cutleries, spice jars, and other items should be placed to make everything organized and accessible.
Installing a kitchen island even when you do not need it:
One more mistake that people make while designing the kitchen is installing the kitchen island even when they have no requirement for it. The kitchen island is an element that serves many purposes like offering additional storage. You should learn about the islands and the functions they serve and decide whether you really need to install one for your kitchen.
Not customizing your kitchen:
While planning your kitchen you have to pay attention to the kitchen customization. If a kitchen is not customized according to your requirement, doing kitchen work will be a hectic experience for you. Therefore, create different zones in your kitchen and plan every segment according to your work patterns.
No work triangle:
When it comes to the modern kitchen design, ignoring the work triangle will be a big problem. Do not create a modern kitchen design without implementing the kitchen triangle rule. The kitchen triangle makes it easier for one to access the most important points in the kitchen. Therefore, one should pay attention to it. If you ignore this rule your kitchen functionality will be affected.
Conclusion:  These above mentioned 10 kitchen design mistakes must be avoided if you are planning a modern kitchen design now. Keep them in mind and take expert help where necessary to design a flawless kitchen.
ALSO, YOU CAN READ OUR NEW UPDATES