The modern modular kitchen design is extending its boundaries by experimenting with style, color, features and is reinventing itself.  A Haecker Kitchens, we too, believe in reinventing our craft so that we can continue to present magnificent, luxury modular kitchen designs that promise high functionality.
We create modular kitchen designs that are built to last, functional and are premium quality. Whether you are looking to build your modular kitchen in a traditional, modern or in contemporary style, you can find your style with us.
Today we will introduce you to a stunning contemporary modular kitchen model -Porto GL Selection Blackberry. Let's explore it now.
Porto GL Selection Blackberry: Luxury kitchen design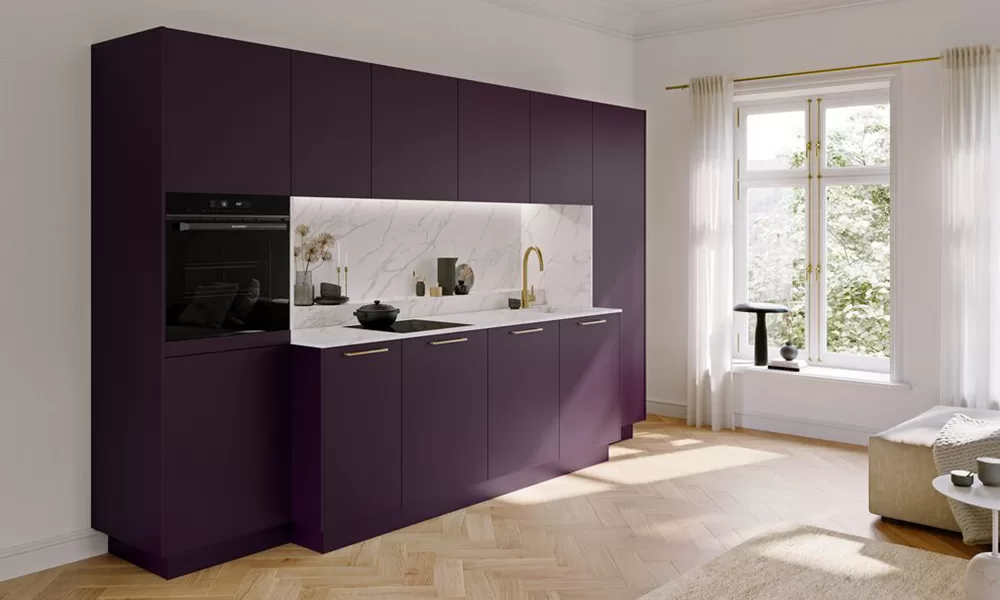 Blackberry: A breathtakingly luxurious color
An ideal fit for a modern home- that is what you think of when you look at this luxurious modular kitchen design. But before you can study the layout or delve into other details, it's the color that draws your attention first.  Blackberry is a rich color that screams opulence and can be a great choice for those looking for some luxurious alternatives to the classic black.
At the Haecker Kitchens, we offer a wide array of color options so that designers, home owners can take their pick. The luxurious color has a muted tone that lends elegance and warmth. The marble-look worktop and back panel have created a beautiful contrast amping up the contemporary style. The golden hardware and fittings exude the royal aura.
It is a great option for people who step beyond neutral shades and want to display color but do not want anything too bright. The Porto GL Selection Blackberry is an ideal match for them.
The compact small modular kitchen layout:
Not all kitchen designs are elaborate; designing a modular kitchen for small spaces can be a challenge but we are always there to meet diverse Indian kitchen design requirements.
The Porto GL Selection Blackberry can be a great option for people looking for a compact, small modular kitchen design. The layout is simple; since the intention is to create a compact kitchen space we have chosen the one-wall kitchen layout.  All kitchen units are arranged along the wall creating a minimalist, seamless kitchen layout. The built-in appliances are enhancing its compact appeal making it a perfect addition to your apartment. The layout is highly functional and lets you enjoy an unobstructed workflow, and helps you save space for dining and living room.
Seamless cabinetry:
The cabinets are evenly spaced in this layout, and the vertical cabinets are all handle-less, and only the bottom four have sleek handles. It suits kitchens that have moderate storage requirement. The handle-less cabinets help create a clean, contemporary kitchen style and have an understated elegance about them.
These cabinets are a great option for small kitchens as the focus is on creating seamless spaces.  The vertical cabinets are placed at the right height making them easily accessible.  There is a raised bar right above the countertop area that can be used for displaying exotic vases, and other décor pieces.  It can also be used for displaying crockery.
Learn about our another stunning creation Granada White here – Looking for luxurious, statement modular kitchen designs? Check out granada white from haecker kitchens
Concealed and integrated appliances:
A contemporary Indian kitchen design can be identified by concealed and integrated appliances. Modern homes these days prefer having integrated appliances as it enhances the contemporary appeal of the kitchen. This feature helps save space in a small modular kitchen design and helps you continue with the seamless flow instead of disrupting it.
The integrated cooktop and oven are visible in the design and are placed at optimal positions making it easier for the user to access it.  The rest of the appliances are concealed behind flat panels. In a small kitchen, concealed, built-in appliances are a must. At Haecker, we partner with only the best appliance brands in the market today who offer a range of smart, functional, built-in appliances that you can choose from.  Together we plan on enhancing the user experience by creating seamlessly functional kitchen designs in India.
Functional kitchen lighting:
No kitchen can be complete without a functional lighting layout.  In this kitchen there is plenty of natural light that is brightening up the space.  The small kitchens often have to deal with dark corner areas, which is why they must be well-lit. The under-cabinet lighting is beautifully illuminating the task zone without any glare, and it is also enhancing the kitchen's aesthetic appeal.
Welcome grandeur to your home with Porto GL Selection Blackberry. A mesmerizing luxury modular kitchen, that will be a stunning addition to your home. Visit Haecker India showroom in your city to select your kitchen.
ALSO, YOU CAN READ OUR NEW UPDATES