A modular kitchen design is convenient, functional, and aesthetic but should also be sustainable. Growing environmental concern is causing a paradigm shift in the industry. Some brands have started researching sustainability practices to reduce their carbon footprint.
The industry needs to scale up its efforts to make a difference. However, there are some underlying challenges that the industry must address while identifying emerging opportunities. Let's learn more about this.
Sustainable modular kitchen design: What is the checklist? 
Before diving into the challenges or opportunities, we must understand the concept of sustainable kitchen design. Here are some of the crucial aspects of a sustainable modular kitchen-
Sustainable kitchen materials

Energy-efficient appliances

No VOC paint and finishes- VOC is harmful to the environment. Prolonged exposure to the chemical may cause cancer.

Reduction in Formaldehyde emissions

Efficient water-conserving fixtures

Eco-friendly packaging
Hacker Kitchens, the German luxury modular kitchen company, follows all these principles.
Learn more about our road to sustainability here:
Sustainable kitchen design is the need of the hour: here's how hacker kitchens is setting sustainability standards
Some manufacturers in the industry have already taken green initiatives. They offer eco-friendly kitchen materials, recycled materials for kitchen cabinets, energy-efficient appliances, and other eco-friendly kitchen products.
Despite progress, the kitchen industry still has some challenges to battle. Let's take a look at some of the pressing challenges.
Sustainable modular kitchen design: What are the challenges?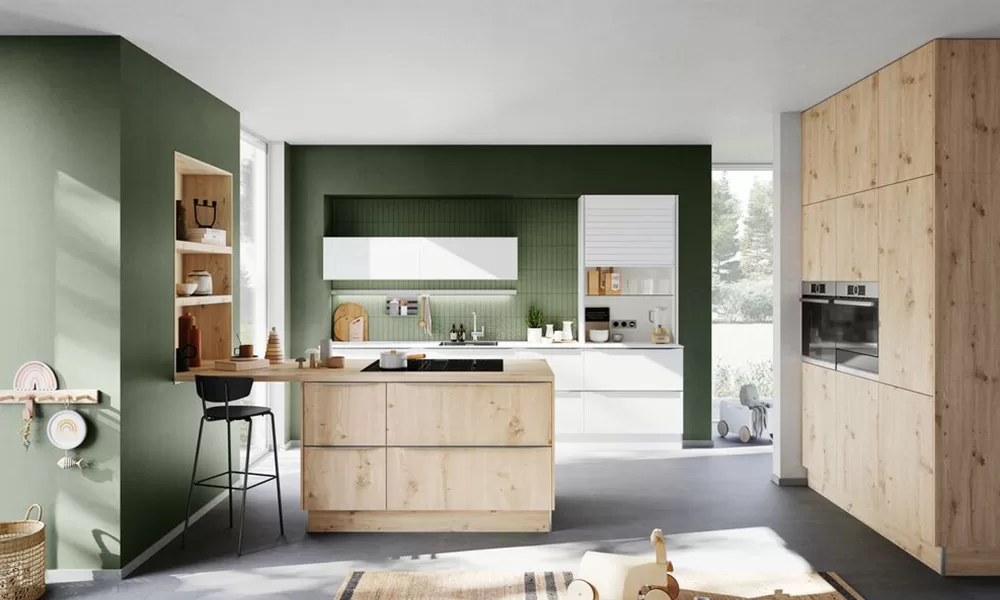 The cost is high: 
Although sustainable kitchen materials and technology benefit the environment, their costs might be high. It is challenging for manufacturers to maintain the final product price within a reasonable range because the materials and features are substantially more expensive than traditional materials. High kitchen cost often acts as a deterrent for kitchen users and explains why the concept is still not percolating all tiers of the market.
Availability of sustainable materials: 
Sustainable materials are the heart and soul of a green modular kitchen design. However, it is hard to access such materials because there is a dearth of suppliers in this field. Architects and modular kitchen manufacturers encounter hurdles in sourcing green materials for projects. Creating sustainable designs on a grand scale is often a challenge for them, and if they have to transport such materials from a great distance that will invariably increase the price. The upfront price of the materials and construction costs often act as barriers.
Lack of awareness: 
Many kitchen users are still unaware of the fact that VOCs and formaldehyde are not only detrimental to the environment but also to their health. They are unaware that toxic substances are present in the cabinets, worktop materials, paint, and cabinet finishes, and an extended exposure to such toxicity can even cause cancer. Another barrier for the sector is a lack of understanding on the side of the end consumer. They are also not aware of the benefits of a sustainable modular kitchen.
Lack of clarity: 
The terms eco-friendly kitchen or green resonate with people as they grasp the notions with ease. It is not hard to find motivated homeowners who are planting trees and saying no to plastic. However, not many have clarity regarding the concept of sustainability. While all these concepts aim to protect the environment, the practices differ. Sustainability is about conserving the environment, and it is a lifelong process. By making sustainable choices, kitchen users can expect their kitchen to last a long time. Both concepts go hand in hand.
The impact is on a small scale:
Even though many businesses and consumers are adopting sustainable practices and making sustainable decisions, the impact is minimal. The production of sustainable modular kitchens must be on a large scale to address environmental concerns.
Sustainable modular kitchen design: What are the opportunities? 
There may be challenges, but not all are bleak for the industry; there are opportunities that the industry must recognize.
Awareness is increasing: 
People are more aware than ever as brands across different industries launch eco-friendly initiatives. They may not realize the significance of sustainable kitchen designs, but they are eager to take steps to do their bit for the environment. With the right approach, modular kitchen brands will be able to spread awareness and inspire consumers to make sustainable choices in the kitchen.
Social media platforms can be effective: 
Now, almost all brands and designers have a social media presence. Brands, designers, and suppliers who have actively adopted sustainability practices should use their social media channels to promote sustainable products and create awareness. It is an effective way to highlight the necessity of adopting sustainable kitchen design practices. A campaign to raise awareness about the harmful effects of toxic chemicals may create the right impact.
 Architects and brands are raising the bar: 
There are a growing number of architects dedicating themselves to creating sustainable designs. They collaborate with a network of suppliers who uphold the same principles and have the necessary knowledge, skill, and enthusiasm. They employ sustainable materials and methods for both high-end residential and commercial projects. Hacker, the leading modular kitchen brand, has won awards for being a carbon-neutral company. From sourcing kitchen materials to load securing, we make sustainable choices at every step.
With that, we come to the end of this discussion. Challenges and opportunities coexist in the market. Lack of awareness, scarcity of resources, and high costs are the challenges the industry needs to address. But the industry must also identify the opportunities and make concerted efforts to protect the planet.
ALSO, YOU CAN READ OUR NEW UPDATES