Mumbai is the economic capital of India and basks in a cosmopolitan culture. The city is a melting pot of cultures and home to professionals and entrepreneurs; it draws millions of souls from all parts of the country who come to the city to fulfill its ambition. Hacker Kitchens, the reputed German luxury modular kitchen brand, started its journey in Mumbai in 2007.
The brand has emerged as one of the most popular modular kitchen brands in Mumbai, and beyond. Innovation, elegance, bespoke design, German engineering, and functionality define a Hacker Kitchen. Every city has unique needs and design specifications, and we work relentlessly to craft a kitchen that seamlessly fits your space. As a German modular kitchen brand, we must grasp every region's traditions, ethos, culture, and sensibility to customize a modular kitchen design that will stand the test of time.
Explore our modular kitchen showroom in Mumbai to learn what makes people trust the brand.
Hacker Kitchens: Modular Kitchen in Mumbai
Our Mumbai journey has been as colorful as the city itself. In every city, there are specific challenges that we have to identify so that we can innovate to overcome them. The space crunch is an issue that apartments across the city have to deal with.
Some of the popular kitchen styles in Mumbai are:
Stone Veneer Black Star AV7030,
AV 8000, Laminate,
, AV 2045,
AV 4030 + Matt White 6000
Let's visit our Mumbai showroom to learn about our journey, challenges, and strengths.
Modular kitchen showroom in Mumbai: What makes Hacker stand out?
Our Mumbai showroom is a part of Kanu Kitchen Kulture Pvt Ltd. Mr. Ashish Mahajan has spearheaded our Mumbai modular kitchen showroom since its inception. It's been almost 15 years since he has been associated with the brand, and he shared some of the highlights of the crucial aspects of the modular kitchen design process we have followed in the city.
Challenge: Space Constraint
One of the first challenges that the city posed was the space constraint. Due to the limited space, we had to figure out how to make the most out of the area we had to work with.
The functionality of the modern kitchen design in such spaces takes precedence over kitchen aesthetics. The kitchens in Mumbai are compact. We have brainstormed designs that fit the kitchen space seamlessly.
Each Hacker Kitchen is tailor-made to suit the design requirements of the kitchen user. The appliances, such as the dishwasher and oven, are integrated into the design as built-in appliances. It is a highly efficient space-saving strategy that enhances modular kitchen functionality. The state-of-the-art appliances also contribute to the kitchen aesthetics.
Challenge: Humidity
Another challenge that we identified was high humidity. The Indian climate is humid, and Mumbai, a coastal city, has excessive humidity. Humid weather, steam, and high heat may affect the durability of the kitchen.
At Hacker Kitchens, we resolved this issue by tropicalizing our kitchens. We apply PUResist technology, a sophisticated edge bonding technology used to manufacture fronts, carcases, and surrounding material.
Since Hacker modular kitchen models are powered by PUR-bonding technology, these become water-resistant and perfectly suitable for the Indian climate.
Our strengths:
Unmatched quality:
Hacker kitchens are trusted globally for their premium German engineering, unrivaled quality, durability, and robust modular kitchen design. All Hacker kitchen designs get customized in the showrooms, and we send the finalized kitchen designs to Germany's automated manufacturing units.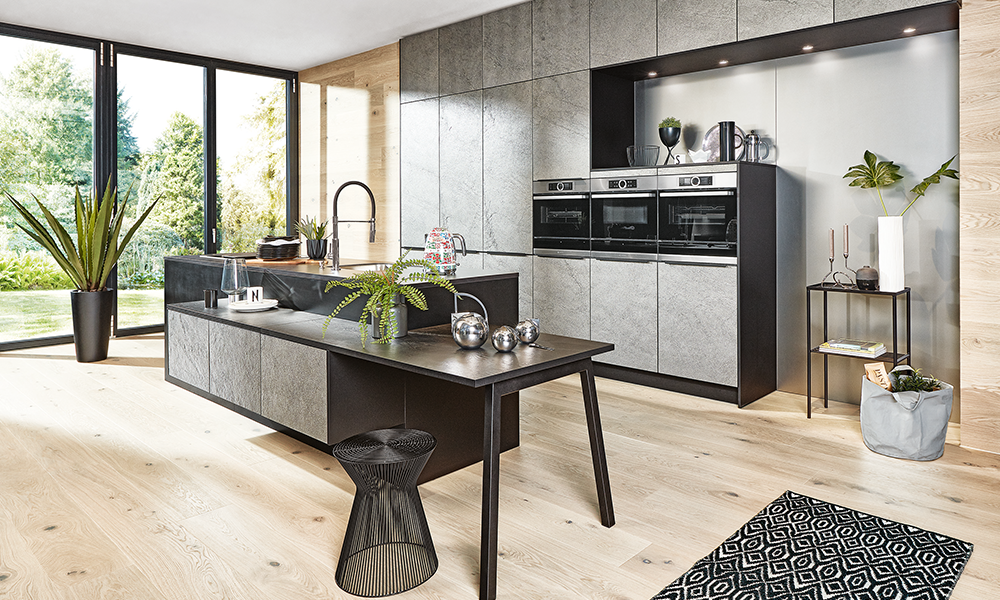 The clients trust the brand; be it their first modular kitchen or second, they prefer Hacker. We have had clients whose first kitchen was a Hacker kitchen, and when they relocated, they decided to invest in a Hacker kitchen again. They select the brand because they do not have to worry about quality, appliances, or modern kitchen design.
The service:
The after-sales service has always been exceptional. We believe in building relationships with our clients, we start with helping them find the right modular kitchen design. We remain available to address any concerns they might have later, post-installation. We work closely with our dealers and are always there to back them up.
Versatile designs and innovative features:
We are constantly researching new ways to make the kitchen a better place for you. We bring to you unrivaled design versatility. Expect cutting-edge features like handle-less cabinets, anti-fingerprint surfaces, smart accessories, brilliant innovations such as 'The Flying Bridge' counter, and more.
Hacker's internal organization system enables the end users to keep the kitchen clutter-free. We understand your modular kitchen design aesthetics needs and provide you with 1950 NCS colors, an exclusive range of materials, and fronts. Create a kitchen space that you will cherish forever.
We believe a modular kitchen should be a functional and intimate space for the end user. In Mumbai, we have received love and appreciation from our happy customers. Recently, we have done premium projects at Tardeo, and Worli. We put our products through quality checks to ensure we deliver only the best modular kitchens. Explore our modular kitchen showroom near you to find your modular kitchen model.
ALSO, YOU CAN READ OUR NEW UPDATES